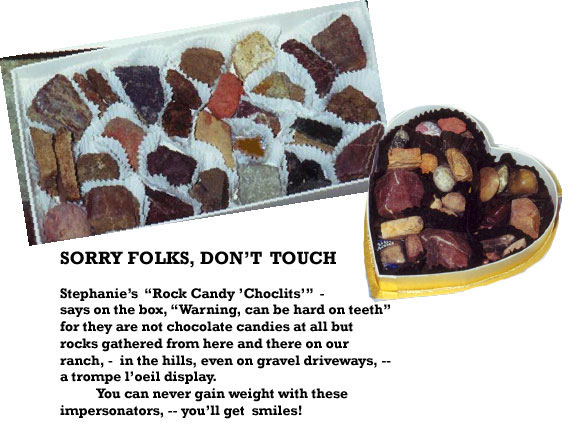 Some example of Clark's humor!
---
JUST LIKE EVERYWHERE ELSE ...
IF IT'S NOT BROKE
IT WILL BE
---
10 WAYS YOU KNOW YOU ARE IN SONOMA VALLEY

by Stephanie Clark

WHEN.......

1. Pickup trucks outnumber BMW's at the local Farmers' Market.
2. People feeling ill, head to Santa Rosa to be sure there's a hospital open.
3. Private winery parties stash favorite beers under the wine table.
4. Old timers miss seeing Wildwood, Kinneybrook, Graywood, SilverSchoon
and Annadel Farms on the way to Santa Rosa.
5. Big country gates are being replaced by big iron gates to keep whatever out or in.
6. The hills are alive not with music but with new houses.
7. New stoplights and new potholes are put in every week.
8. Fields overnight turn into golf courses, vineyards, and villas
9. Senior Citizens don't mind being called duffers but insist they are Prime Timers
10.Small town citizens love September when the kids go back to school and the
tourists go back home and they get their towns back.

AND WHEN:

11. A tourist asks a good ol' boy where's the best place to eat, he says - Crab Feed
at the Fire House Saturday night
12. The good ol' boy jumps into his big black Navigator and uses his cell phone
to call his hair stylist.
13. You freeze your socks off in a cold summer morning fog rolling in from the
Pacific and fry under a 4 PM sun that only a grape could love.